Nightly Social Events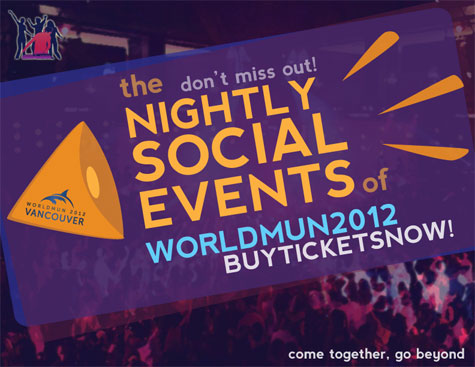 Be prepared for a week of non-stop fun and entertainment. Life in Vancouver truly begins after sunset, and at WorldMUN 2012 we are bringing you the best sights and sounds of the city. Immerse yourself in Vancouver's vibrant culture and sample exotic fanfare at amazing venues. Experience the pulsating energy from heavy beats and strut your stuff on spacious dance floors; or kick back and enjoy a cocktail while you meet with delegates from all over the world. From dance parties to masquerades, Vancouver's nightlife welcomes you.
DETAILS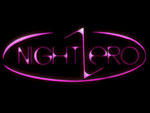 Night Zero
Start your WorldMUN journey in lavish style at one of Vancouver's most stylish and sophisticated nightclubs. Get to know your fellow delegates through a cocktail reception and dance... Click here for more.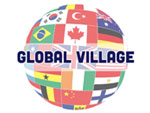 Global Village
The world is a village and we invite you to the crossroads of culture here at the Global Village. Take a walk around a bazaar of cultural booths brought to you by your fellow delegates or simply partake on the action going on the dance floor. Share your histories and build long-lasting bridges of friendship in this intimate cultural exhibition. Global Village truly kicks off the WorldMUN experience in its entirety... Click here for more.
A 1920s Cabaret
Always a time of good fun and good laughs, the Cabaret is an evening of creativity and choreography. The 1920s Cabaret is an evening of performance, creativity and choreography put together by delegates, including dances, skits and more. Afterwards, the dance floor will be opened up to everyone for the remainder of the night to socialize with fellow delegates and show off dance moves... Click here for more.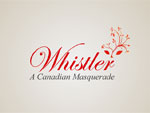 Whistler - A Canadian Masquerade & Half-Day Trip
As Canadians, we are proud to host WorldMUN with our unparalleled hospitality and classy style. That is exactly what delegates should expect from our much-anticipated Whistler Masquerade Ball, combined with the WorldMUN Half-Day Trip. Delve into the mysterious splendour of this posh event, by bringing a mask of your own or making one at the event... Click here for more.
Woodstock 2012
Vancouver had one of the world's largest flings of "hippie-ness" in the 1960s, and its influence can still be very much seen to this very day. It was even the birth place of Greenpeace! Allow us to showcase this period of counterculture - a night that begins with tunes from the era and modern Indie performances before kicking off a night of dancing... Click here for more.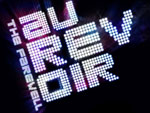 AU REVOIR: The Farewell Party
All good things must come to an end, but not just yet. Join us for an exciting end to conference as we push our Farewell Party to the limit and send our delegates home with fond memories of an amazing week... Click here for more.
PRICING SCHEME
- SAVE MONEY by purchasing the ALL-ACCESS EVENTS & HALF-DAY TRIP


-

PACKAGE (excluding Night Zero):
CAD$85.00 if you purchase before January 31st (23:59 PST)
CAD$90.00 if your purchase between February 1st to February 15th (23:59 PST)
- Single-Event Tickets
Night Zero: CAD$25.00 (Cocktail)
Global Village: Free! (Traditional)
A 1920s Cabaret: CAD$30.00 (Premium)
Whistler - A Canadian Masquerade & Half-Day Trip: CAD$40.00 (FLAGSHIP!)
Woodstock 2012: CAD$30.00 (Premium)
AU REVOIR: The Farewell Party: CAD$40.00 (FLAGSHIP!)
*All Nightly Social Events sales will close completely on February 15th at 23:59 PST local Vancouver Time. Please buy ahead of time to ensure successful completion of purchase. Should you have any enquiries with regards to your order, please contact us at events@vancouver2012.org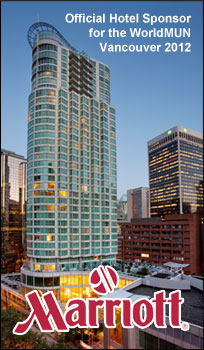 Important Reminders Before Departure to Vancouver | 6 March 2012
Wondering how to get around Vancouver? Wondering what identification and clothing you need to bring? Click here to read more.


Itinerary for WorldMUN 2012 | 2 March 2012
The daily itinerary for the 21st World Model United Nations Conference in Vancouver has been released. To view the full schedule, click here.


A Letter from United Nations Secretary-General BAN Ki-moon | 29 February 2012
"I am counting on your continued leadership and engagement. By participating in this Model United Nations, you will hone your negotiating skills and gain insights into what it takes to achieve consensus and progress...you can make your voices heard and drive political and social change...". Read the full letter here.