Logistics
What: Generally speaking, logistics volunteers are the individuals that let the events carry on with their agenda. Without these volunteers, there would be no one checking delegates in, setting up venues, or providing transportation for our international visitors.
The following positions are available:
Airport Greeter: Welcoming international guests at the Vancouver airport.
Registration Volunteer: Aiding other delegates and guests in registration upon arrival to the events.
First Aid Volunteers: Attending to any minor medical injuries at the events.
Merchandise Store Volunteer: Selling Vancouver WorldMUN merchandise.
Transportation Volunteers: Arranging or providing transportation to those that require it from the airport.
Ceremonies Volunteer: Aiding in the logistics of the WorldMUN ceremonies whether by set up, security, etc.
Conference Venue Volunteer: Aiding in the logistics of the WorldMUN conference whether by check in, set up, clean up, etc.
Social Events Venue Volunteer: Aiding in the logistics and maintenance of the WorldMUN social events whether by check in, set up, clean up, etc.
Who: Logistic Volunteer positions are open only to post-secondary students enrolled at colleges and universities located in the Lower Mainland (Metro Vancouver) region of the province of British Columbia.
Where: Prior to the conference, there will be a mandatory training session at UBC campus. During the conference you will most likely be on-site for whichever event you are assigned. Post conference you will find yourself periodically caught up in many, many wonderful memories of your time at WorldMUN 2012.
When: The conference takes place from March 11th to March 15th, 2012. Prior to this conference there is a mandatory training session (likely to be held after Christmas). The date for this training session is pending, but will be decided by late October.
Why: Serving as a logistics volunteer for one of the world's most prestigious Model UN conferences is, for most, a reward in itself. However, if leading exciting debates, making new friends, sharing wonderful experiences, and having an all-out blast doesn't quite do it for you, we can also offer to provide a reference letter to you by conference-end.
For more information, please feel free to contact Mark Antczak (Director of Volunteers), Miranda Leffer (Volunteer Liaison), or Shadyar Shirmast (Volunteer Liaison.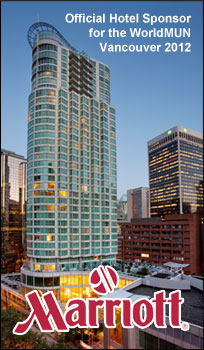 Important Reminders Before Departure to Vancouver | 6 March 2012
Wondering how to get around Vancouver? Wondering what identification and clothing you need to bring? Click here to read more.


Itinerary for WorldMUN 2012 | 2 March 2012
The daily itinerary for the 21st World Model United Nations Conference in Vancouver has been released. To view the full schedule, click here.


A Letter from United Nations Secretary-General BAN Ki-moon | 29 February 2012
"I am counting on your continued leadership and engagement. By participating in this Model United Nations, you will hone your negotiating skills and gain insights into what it takes to achieve consensus and progress...you can make your voices heard and drive political and social change...". Read the full letter here.