Getting here
By Air
Airfare Discounts
WorldMUN 2012 Vancouver has partnered with Air Canada (Official Canadian Airline) and Star Alliance (Official Airline Network) to provide delegates and visitors with discounted air travel options to Vancouver. For more information, click here.
Airports
Vancouver International Airport (YVR), located in Metro Vancouver in the province of British Columbia, is the second largest airport in Canada and the major international airport for Western Canada. It is a gateway for travellers from the Pacific Rim.
We highly recommend direct travel to Vancouver International Airport or to another major Canadian airport for transit into Vancouver. Toronto's Pearson International Airport offers additional flight options, and multiple daily flights between Toronto and Vancouver allow a quick transit to the WorldMUN 2012 Host City. Direct flights connect the major cities of the globe with Vancouver International Airport and Toronto's Pearson International Airport, and frequent connecting flights will help you get to any Canadian destination efficiently.
Direct flights from most major US air terminals take you to many Canadian cities including Victoria, Vancouver, Calgary, Edmonton, Regina, Winnipeg, Thunder Bay, London, Toronto, Ottawa, Montréal, Québec City, Saint John, Halifax and Yarmouth. (Warning: Delegates are warned that special United States visa policies apply for flight transits at any American airport. Depending on your nationality of origin, you may be required to hold an American transit visa in order to transfer to another flight bound for Vancouver and Canada. Please consult your nearest United States Embassy or Consulate if you wish to fly to Vancouver via transiting at an airport in the United States. For any inquiries on the visa process for entry into Canada or the United States, please contact Isabel Gonzalo at visa@vancouver2012.org) Information on the required travel documents for entry into Canada can be viewed here.
By Land
By Car
Highway 1, the Trans-Canada Highway, accesses Vancouver from points east and west in Canada. If planning a driving tour, allow 12-hours from Calgary and five-days from Montreal.
Vancouver is only 3-hours north of Seattle. Take the Interstate 5, which becomes Highway 99 at the Canada-United States land border crossing. There are two main border crossings near Vancouver:
The main border crossing is the Peace Arch/Blaine crossing. The Peace Arch is the most popular of the local crossings and is open 24-hours a day.
The secondary border crossing at Surrey/Blaine is near the Peace Arch/Blaine crossing. This crossing is also open 24-hours a day.
By Greyhound Coach Lines
Greyhound Lines serves Vancouver from numerous cities in the United States and Canada. The main Greyhound terminus is Pacific Central Station in Downtown Vancouver and is adjacent to Vancouver's SkyTrain rapid transit rail system. For booking details, visit www.greyhound.ca
By Amtrak
Amtrak's Cascades route runs between Oregon, Washington State, and British Columbia. Two daily trains run to Vancouver's Pacific Central Station in Downtown Vancouver, with either Seattle or Portland as the route starting points. For booking details, visit www.amtrakcascades.com
Customs and Duty Free

Temporary Resident Visa for Entry into Canada
Information on the required travel documents for entry into Canada can be viewed here.
Prohibited and Restricted Items by Canada Customs
To learn more about Canadian customs regulations, visit the Canada Border Services Agency website.
Many agricultural items are restricted or prohibited entry to Canada. Canadian law requires that you declare all agricultural products you bring into Canada to customs officers when you arrive, whether by land, sea or air. Permission is required to import plants to Canada, with the exception of houseplants from the United States. The Canadian Food Inspection Agency provides more information.
Handguns and weapons, such as mace and pepper spray, are prohibited from being brought into Canada. Additionally, some fruits, vegetables, eggs, meats, dairy products and plants from other countries cannot be brought into Canada. For more information, please consult the Canada Border Services Agency website.

Gifts
Gifts valued at $60 or less each may be brought into Canada duty-free and tax-free. If you bring in gifts worth more than $60, they will be subject to duty on the excess amount. Alcoholic beverages, tobacco products and advertising materials do not qualify as gifts.

Alcohol and Tobacco Products
You can bring in limited quantities of alcohol if you meet the minimum age requirements of the province or territory you enter Canada (see below). These items must accompany you on your arrival.
The minimum age for the importation of alcoholic beverages is 19 in British Columbia.
You can import only one of the following amounts of alcohol free of duty and taxes: 1.5 l of wine; 1.14 l of liquor; a total of 1.14 l of wine and liquor; or 24 x 355 ml cans or bottles (a maximum of 8.5 l) of beer or ale.

Duty-Free Limits for International (not US residents) Visitors Returning Home
International visitors outside the US should consult with customs officials in their home countries to determine their duty-free limits.

Duty-Free Limits for US Visitors Returning Home
American residents returning to the US after 48 hours can take back $800 US worth of merchandise duty-free, every 30 days. This may include 1 l of alcohol (provided the resident is 21 years or over), 200 cigarettes, or 100 cigars, not of Cuban origin. If you are travelling as a family, you may combine your personal exemptions for visits over 48 hours.
If your stay is less than 48 hours, or if the $800 US allowance, or part of it, has been used within the previous 30 days, an exemption of $200 US is allowed, including 150 ml of alcohol, 150 ml of perfume and no more than 50 cigarettes, or 10 cigars, not of Cuban origin.
If you plan to bring back articles as part of an exemption, they must be for personal or household use. These articles must be carried with you and declared. Duty charged varies according to the country the article was made in and the type of article. No prohibited or restricted items are permitted across the border.
For more information on US border-crossing and duty requirements and limits, please visit the US Customs website.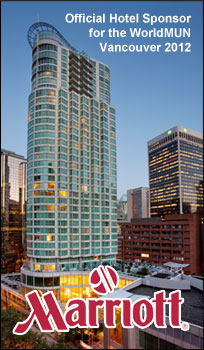 Important Reminders Before Departure to Vancouver | 6 March 2012
Wondering how to get around Vancouver? Wondering what identification and clothing you need to bring? Click here to read more.


Itinerary for WorldMUN 2012 | 2 March 2012
The daily itinerary for the 21st World Model United Nations Conference in Vancouver has been released. To view the full schedule, click here.


A Letter from United Nations Secretary-General BAN Ki-moon | 29 February 2012
"I am counting on your continued leadership and engagement. By participating in this Model United Nations, you will hone your negotiating skills and gain insights into what it takes to achieve consensus and progress...you can make your voices heard and drive political and social change...". Read the full letter here.