Events & Activities
The Events Services Team are proud to provide delegates with the 'Vancouver experience' over a span of 6 days. The spice of a good conference lies in its events and activities; and at WorldMUN 2012, there will be no shortage of entertainment and things to do during your leisure! It is our vision to encapsulate our rich culture, history and dynamism in these recreational activities to provide delegates with much deserved relaxation after a tiring day in committee. Participate in our events to socialize in energetic environments such as in top-notch venues, and forge new friendships through networking, conversation and cross-cultural interaction. The city of Vancouver allows our team to fully maximize our assets and creativity, thanks to the numerous venues available that could accommodate our sheer numbers and still offer tantalizing ideas. We have successfully channelled the cosmopolitanism easily found in the streets of Vancouver to each event and we hope to amplify the spirit of Vancouver by showing the hospitality and emanating the warmth that Canadians so often extend. Here at WorldMUN 2012, we will be packaging all the fun and value in 4 components: Nightly Social Events, In-Conference Trips, Workshops & Seminars, and Pre/Post-Conference Trips. Allow us to guide you through our ambitious plan for the week, as we give you a sneak preview of the world-class venues and event concepts - all of which sing praises to Vancouver's art, culture and identity as a global city.
Nightly Social Events
Strip out of your business attire and lose those uncomfortable shoes. Get into your party gear, bring that swag onto the dance floor and just loosen up! Of course, if dancing isn't your style, there are a dozen other activities to choose from; not to mention the range of themes that will make each of the 5 fun-filled nights unique and colourful! Get ready for an experience of a life time as you celebrate history-in-the-making with 2000 or more delegates!

In-Conference Trips
The view of the North Shore and Vancouver's scenery can seem terribly enticing through your committee room windows. That is why we have a 2.5 hour lunch break to accommodate your sightseeing needs! Check out our comprehensive list of things-to-see and trips that you definitely do not want to miss out on: from Granville Island breweries to the Capilano Suspension Bridge; bike-riding or whale-watching; In-Conference Trips have never been more exciting.

Workshops & Seminars
At WorldMUN 2012, we will be re-introducing the workshops & seminars component, designed to train and equip young leaders. 'Tomorrow's Leaders' is a series that will allow participants to interact with prominent local leaders and learn from their success or failures; at the same time, enabling them to nurture valuable connections and friendships to emerge as a youth leader in their respective countries of origin.

Pre/Post-Conference Trips
Arriving early or leaving late? Don't want to waste your time milling around aimlessly or getting lost? Then sign up for our pre- or post-conference tours! Add an itinerary to your travel plans and maximize your experience here in gorgeous Vancouver or other places of interest! Our partnerships with travel companies and airlines will ensure that you arrive in Vancouver with ample time left over for the conference; or for you to travel with other delegates after the conference is over, thereby prolonging the WorldMUN experience!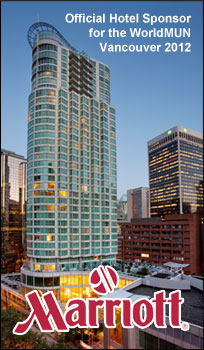 Important Reminders Before Departure to Vancouver | 6 March 2012
Wondering how to get around Vancouver? Wondering what identification and clothing you need to bring? Click here to read more.


Itinerary for WorldMUN 2012 | 2 March 2012
The daily itinerary for the 21st World Model United Nations Conference in Vancouver has been released. To view the full schedule, click here.


A Letter from United Nations Secretary-General BAN Ki-moon | 29 February 2012
"I am counting on your continued leadership and engagement. By participating in this Model United Nations, you will hone your negotiating skills and gain insights into what it takes to achieve consensus and progress...you can make your voices heard and drive political and social change...". Read the full letter here.