GUIDE TO FUNDRAISING
The Guide to Fundraising contains many tips and suggestions on fundraising for your WorldMUN trip. Please take a look at the Guide, which not only contains avenues for your own fundraising, but also links to grants and organisations that may be supportive of your delegation to WorldMUN.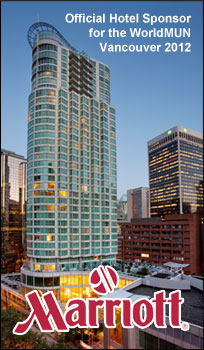 Important Reminders Before Departure to Vancouver | 6 March 2012
Wondering how to get around Vancouver? Wondering what identification and clothing you need to bring? Click here to read more.


Itinerary for WorldMUN 2012 | 2 March 2012
The daily itinerary for the 21st World Model United Nations Conference in Vancouver has been released. To view the full schedule, click here.


A Letter from United Nations Secretary-General BAN Ki-moon | 29 February 2012
"I am counting on your continued leadership and engagement. By participating in this Model United Nations, you will hone your negotiating skills and gain insights into what it takes to achieve consensus and progress...you can make your voices heard and drive political and social change...". Read the full letter here.