About Vancouver
Located at the southwestern corner of the Canadian province of British Columbia, Vancouver is home to 2.5-million residents. It is the largest city in Western Canada and the third largest in the nation. It is one of the world's most beautiful cities and was also recently ranked by the Economist magazine as "the world's most desirable place to live" in a survey of 127 cities. In 2006, Vancouver was the Conde Nast Traveler Readers' Choice for top city to visit in the Americas and in February of 2010, the city hosted the world as site of the XXI Olympic & Paralympic Winter Games.
The city is an outdoor playground and offers a unique and vibrant cosmopolitan setting. Outdoors, visitors can hike, bike, ski, snowboard, sail, climb, swim and paddle, thanks to Vancouver's uniquely mild Canadian climate. Located between the Pacific Ocean and the Coastal Mountain Range, Vancouver has something special for everyone. World-class and fusion dining awaits its visitors.
Vancouver is home to over 70 different cultures, with nearly 50% of the city's population born outside of Canada, making it one of the most culturally diverse cities in North America.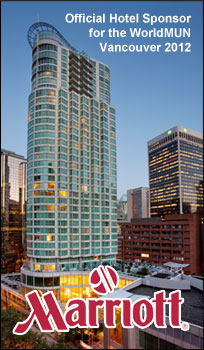 Important Reminders Before Departure to Vancouver | 6 March 2012
Wondering how to get around Vancouver? Wondering what identification and clothing you need to bring? Click here to read more.


Itinerary for WorldMUN 2012 | 2 March 2012
The daily itinerary for the 21st World Model United Nations Conference in Vancouver has been released. To view the full schedule, click here.


A Letter from United Nations Secretary-General BAN Ki-moon | 29 February 2012
"I am counting on your continued leadership and engagement. By participating in this Model United Nations, you will hone your negotiating skills and gain insights into what it takes to achieve consensus and progress...you can make your voices heard and drive political and social change...". Read the full letter here.