About Worldmun
World Model United Nations (WorldMUN) was founded in 1991 by several Harvard students who were looking to create a different Model United Nations experience. It was only natural that the conference's first session would be in Miedzyzdroje, Poland, a city that had just had its borders opened with the fall of the Iron Curtain. There were about 300 delegates in 18 committees at the 1992 conference. WorldMUN grew for several years, and, in 1997, the conference partnered with its first Host Team, the Budapest University of Economic Sciences. With the introduction of the Host Team, the conference began to develop its social activities to expand the conference experience beyond committee: Global Village, with delegates bringing food, drink, songs and traditions from their homelands, and Cabaret, a global talent show, began to bookend the conference as much as Opening and Closing Ceremonies did.
From the conference's 10th year on, it began to venture beyond the traditional cities of Europe into Asia Minor, South America, North Africa and the Middle East, East Asia and even North America. As the conference moves into its 20th year, it has grown to represent the most diverse university conference in the world. WorldMUN was founded in a spirit of idealism and today's conference represents that philosophy in a way that promises a unique experience to its more than 2,200 delegates from over 65 countries.
On May 2, 2011, the University of British Columbia in Vancouver was elected as Host City of the 21st World Model United Nations Conference. WorldMUN XXI will be hosted in Vancouver, Canada from the 11th to 15th of March 2012 at the Vancouver Convention Centre - the Official Conference Venue.

Past WorldMUN Locations:
1992 Miedzyzdroje, Poland
1993 Prague, Czech Republic
1994 Luxembourg
1995 Geneva, Switzerland
1996 Amsterdam, The Netherlands
1997 Budapest, Hungary
1998 Brussels, Belgium
1999 London, England
2000 Athens, Greece
2001 Istanbul, Turkey
2002 Belo Horizonte, Brazil
2003 Heidelberg, Germany
2004 Sharm El-Sheikh, Egypt
2005 Edinburgh, Scotland
2006 Beijing, China
2007 Geneva, Switzerland
2008 Puebla, Mexico
2009 The Hague, The Netherlands
2010 Taipei, ROC
2011 Singapore
2012 Vancouver, Canada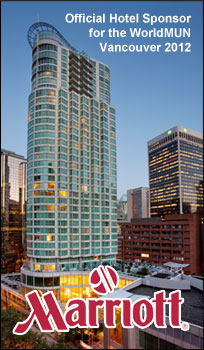 Important Reminders Before Departure to Vancouver | 6 March 2012
Wondering how to get around Vancouver? Wondering what identification and clothing you need to bring? Click here to read more.


Itinerary for WorldMUN 2012 | 2 March 2012
The daily itinerary for the 21st World Model United Nations Conference in Vancouver has been released. To view the full schedule, click here.


A Letter from United Nations Secretary-General BAN Ki-moon | 29 February 2012
"I am counting on your continued leadership and engagement. By participating in this Model United Nations, you will hone your negotiating skills and gain insights into what it takes to achieve consensus and progress...you can make your voices heard and drive political and social change...". Read the full letter here.