Worldmun 2012 brand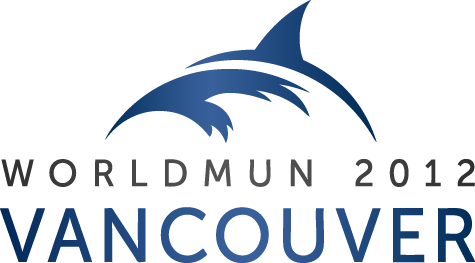 The symbol of a city is always difficult to define, and it is no less so for Vancouver. There are many images associated with Vancouver, such as its distinctive and dense skyline with a foreground of the ocean and backdrop of majestic mountains, sea otters, orca whales and a plethora of trees planted along sidewalks and streets.
We have sought to convey a sense of Vancouver in a distinctive, clean, and simple logo design that reflects the aesthetics of Vancouver. The arch comprises of a partial maple leaf on the left side, coupled with an orca whale fin on the right side.
The partial maple leaf is a reference to one of the most iconic symbols of Canada, the maple leaf. It is found in the centre of the nation's flag, and maple trees bearing the leaf are present across the country. The orca fin is a reference to the orca whale, otherwise known as the killer whale or blackfish. Orcas are commonly found along the coast of British Columbia, the province of Canada that Vancouver is in. The orca whale also figures prominently in the customs and mythologies of the First Nations cultures of the Vancouver region, as well as in more contemporary cultural references- such as Fin, the mascot of the Vancouver Canucks hockey team. The colour of this logo is navy blue, a reference to one of the official colours of the University of British Columbia.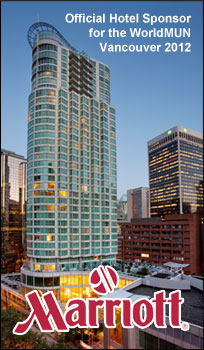 Important Reminders Before Departure to Vancouver | 6 March 2012
Wondering how to get around Vancouver? Wondering what identification and clothing you need to bring? Click here to read more.


Itinerary for WorldMUN 2012 | 2 March 2012
The daily itinerary for the 21st World Model United Nations Conference in Vancouver has been released. To view the full schedule, click here.


A Letter from United Nations Secretary-General BAN Ki-moon | 29 February 2012
"I am counting on your continued leadership and engagement. By participating in this Model United Nations, you will hone your negotiating skills and gain insights into what it takes to achieve consensus and progress...you can make your voices heard and drive political and social change...". Read the full letter here.