Vancouver (at) 2012
We live in a world carried by the spirit of volunteerism. From the smallest, most humble community groups to the largest, most extensive networks of international organizations and non-profits, volunteers are everywhere and, quite arguably, everything. Consider for an instant some of your favourite events, organizations, and initiatives – and now embed them in a volunteerless world. We here at WorldMUN 2012 are pretty comfortable betting this: that your corner of the world would be deeply affected were volunteers to simply disappear. But, while there is so much that could be said about volunteerism, one statement suffices for now: volunteers make better the lives of millions and drive positive change the planet-over.
Vancouver(at)2012
Like a planet devoid of volunteers, it's nearly as difficult to imagine a World Model UN devoid of volunteers. Who would, for instance,
greet delegates, and welcome them to Vancouver?
manage and moderate WorldMUN committees?
staff registration tables, and event venues, and training sessions, and workshops, and…?
carry notes and serve as pages in committee sessions?
offer first-aid and take care of the needs of delegates?
These are just a few examples of the important roles our volunteers play in the smooth running of WorldMUN. As with previous years, a conference of this magnitude, reputation, and caliber would be impossible if not for the hundreds of great people taking time out of their busy lives to do great things.
For WorldMUN 2012, there are three types of volunteer positions:
Logistics Volunteers

– responsible for logistics-related tasks, such as greeting delegates at the airport, staffing WorldMUN social events, and helping with site set-up and take-down.
Committee Pages– responsible for acting as liaisons, within committee sessions, for delegate-to-delegate and delegate-to-dais relations.
Assistant Chairs– responsible, alongside committee chairs, with the smooth running of committee sessions, debate, and committee outcomes.
Why volunteer with WorldMUN 2012? In short, you'll have a guaranteed great experience. Don't believe us? Just look at these perks:
Meet, network, and socialize with over 2,200 undergraduate student delegates from hundreds of schools, continents, regions, and countries around the world,
Discuss and debate, in exciting committee sessions, the most pressing issues facing our planet -- that is, issues that you may only have read about in your textbooks or come across in your lectures,
Dance the night away at one of a handful of wonderfully-themed social events throughout the week of the conference,
Hear inspiring speeches and thoughtful commentary by a featured keynote speaker and other important guests,
Be recognized for your time and effort and offered – should you choose it – a reference letter by conference-end, and
Work alongside other great volunteers like you!
Volunteers who log more than 24 volunteer hours become members of the 24-Perks club.
Sounds like something you'd enjoy? A chance of a lifetime? We think so, too – so go ahead, apply!
Applications are now open; please apply using the left-side menu.. The deadline for submitting applications depends on the position being applied for. Regardless, for all positions you should plan to

have your application completed by early October

. Please see important dates for more information and to ensure that you don't miss out. Competition will be tough, especially for Assistant Chair positions, and we encourage you to take your time preparing your applications. Interviews will be carried out for successful candidates applying for key positions.
An experience of a lifetime
For your sake (and, admittedly, for ours) we hope that you don't miss out on this wonderful opportunity. We think it's a no-brainer: volunteering at WorldMUN 2012 will without doubt be a great chance to help propel positive change in the world, meet and socialize with countless people from countless world cultures, apply and test your own experiences, skills, and knowledge – and do all of this on the beautiful UBC campus and within the wonderful city of Vancouver.
Come volunteer with us -- we think you'll have a great time. And that's one more bet we're very comfortable making. Welcome to Volunteer(at)2012.
Byron Taylor-Conboy
Chief Human Resources Officer
Mark Antczak

Director of Volunteers

Hassan Bhatti

Director of Academic Resources

Miranda Leffler

Volunteer Liaison

-

Academic Coordinator, Specialized Agencies/Crises

Shadyar Shirmast

Volunteer Liaison

Altay Sedat Otun

Academic Coordinator, GA and ECOSOC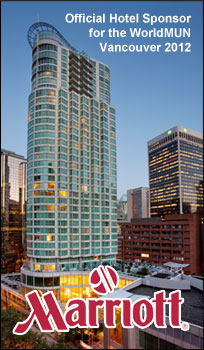 Important Reminders Before Departure to Vancouver | 6 March 2012
Wondering how to get around Vancouver? Wondering what identification and clothing you need to bring? Click here to read more.


Itinerary for WorldMUN 2012 | 2 March 2012
The daily itinerary for the 21st World Model United Nations Conference in Vancouver has been released. To view the full schedule, click here.


A Letter from United Nations Secretary-General BAN Ki-moon | 29 February 2012
"I am counting on your continued leadership and engagement. By participating in this Model United Nations, you will hone your negotiating skills and gain insights into what it takes to achieve consensus and progress...you can make your voices heard and drive political and social change...". Read the full letter here.