About the Organizing Committee
The "WorldMUN Spirit" of international cooperation, understanding, and friendship is the conference's guiding principle. As such, each year's WorldMUN Team – a partnership of Harvard students and Host students - commits to providing the best possible conference and pre-conference service to each of its delegates from around the world; promoting mutual respect and lasting friendships among its own team members; and maximizing the experience and learning for all those staffing and attending the conference. a way that promises a unique experience to its 2,000+ delegates from over 60 countries.
World Model United Nations 2012 Vancouver is a partnership between two undergraduate student-led teams from Harvard University and the University of British Columbia (UBC) in Vancouver, Canada. The Harvard Team plans and executes the conference's committee sessions, while the UBC-student based Vancouver Host Committee plans and operates conference events outside of committee sessions and organizes on-ground logistics.
The Vancouver Host Committee for the 21st World Model United Nations Conference was established on May 2, 2011.
Learn more about the Vancouver Host Committee

Learn more about the Harvard Team

Mission Statement
Our Vision:
We have a vision of a local and global student community that is enriched by the power of the WorldMUN Spirit - one of friendship and cooperation across borders and a deeper understanding of cultures and perspectives beyond one's own.
Our Mission:
We have a mission to successfully host one of the largest and most prestigious student events in the world by showing what people with a common dream and vision can achieve when they work together. This does not stop at our volunteers; it encompasses all those who will be involved with WorldMUN 2012 Vancouver, including more than 2,000 delegates who will participate in this 21st annual session.
Our Values:
DIVERSITY: We value and embrace our differences. Here at WorldMUN 2012 Vancouver, we are creating opportunities and building bridges for greater intercultural understanding.
GLOBAL CITIZENSHIP: Today's challenges transcend borders

and disciplines. As a legacy of WorldMUN 2012 Vancouver, we are creating greater opportunities for our local and global student community to communicate and act together on these issues.

SUSTAINABILITY: We take pride in our city's clean environment, and the commitment that both the City of Vancouver and the University of British Columbia hold towards being global sustainability leaders. At WorldMUN 2012 Vancouver, we are striving for the same goals.
PHYSICAL WELL-BEING: Our city is an outdoor playground, and its citizens cherish the opportunities and activities that come with living in one of the world's most unique settings. We are committed to promoting a sense of physical well-being at WorldMUN 2012 Vancouver.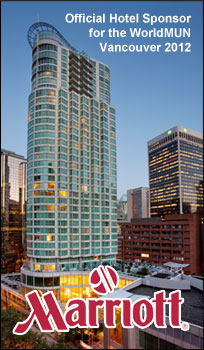 Important Reminders Before Departure to Vancouver | 6 March 2012
Wondering how to get around Vancouver? Wondering what identification and clothing you need to bring? Click here to read more.


Itinerary for WorldMUN 2012 | 2 March 2012
The daily itinerary for the 21st World Model United Nations Conference in Vancouver has been released. To view the full schedule, click here.


A Letter from United Nations Secretary-General BAN Ki-moon | 29 February 2012
"I am counting on your continued leadership and engagement. By participating in this Model United Nations, you will hone your negotiating skills and gain insights into what it takes to achieve consensus and progress...you can make your voices heard and drive political and social change...". Read the full letter here.