Accommodations
Bookings
Dear Delegates:
Welcome to the beautiful city of
VANCOUVER!
The next step after registration is to book your accommodations in Vancouver. However some key logistical matters must be addressed first. Please read through the information below carefully before proceeding with booking your rooms.
1. Be sure to book your rooms early! Two other conferences will be in Vancouver overlapping the duration of our conference; hotels in Vancouver will be extremely full. We strongly suggest you to complete your reservation procedure before January 1st, 2012, or there might not be rooms available afterwards.
2. Each hotel has a different booking method and procedure, therefore be careful when booking to make sure you have everything needed in order to make a reservation at your selected hotel.
3. If you need a Temporary Resident Visa (TRV) to enter Canada, please finish your hotel reservations by December 1st, 2011. Otherwise, your TRV application might not be processed and/or approved in time for your departure to Canada. (NOTE: TRV is the name of Canada's Travel Visa for visitors)
If you have any question concerning accommodations, or any difficulty you encounter while booking, please do not hesitate to email Isabel Gonzalo at isabelc.gonzalo@vancouver2012.org.
If you have any questions concerning TRV applications, required documents, or a letter of invitation for the conference, please do not hesitate to email visa@vancouver2012.org.
We are here to make your WorldMUN experience stress-free: please do not hesitate to email us if you require any assistance!
Official Hotels
WorldMUN village
Locations
F.a.q.
Q: What is the deadline for booking accommodations?
A: The deadline is January 1st, 2012. Make sure you book before this date as there will be two other conferences overlapping the duration of our conference and you might not get a room within the WorldMUN Village. Q: Who can stay at the Official Hotels?
A: Everyone! Q: What is the WorldMUN 2012 Village?
A: WorldMUN 2012 Village is a small area with a cluster of hotel options within a ten minute walk from the Conference Venue. Staying within the WorldMUN Village gives delegates more opportunities to network. Q: Do I need to stay within the WorldMUN Village?
Y: No. However, we highly recommend you do so because of all the opportunities it opens for delegates. Q: Do all hotels provide free breakfast?
A: No. When you book your accommodations and in the descriptions we have provided it will indicate what services the hotels provided. However, ALL hotels have numerous hot and cold breakfast options. Q: Do all hotels provide free internet access?
A: Yes! All WorldMUN 2012 hotels will provide complimentary internet access. Q: Is there some sort of map where I can see the locations of the Hotels and the Vancouver Convention Centre?
A: Yes! http://g.co/maps/4duh Q: Do I need to know my expected location of stay when applying for my Temporary Resident Visa (TRV)?
A: It depends on the country you are applying from. Canada requires expected location of stay from most countries so book your accommodations before October 31st! Q: Who can I email if I have any unanswered questions regarding accommodations?
A: Isabel Gonzalo, the Hospitality Coordinator at isabelc.gonzalo@vancouver2012.org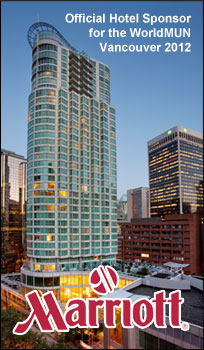 Important Reminders Before Departure to Vancouver | 6 March 2012
Wondering how to get around Vancouver? Wondering what identification and clothing you need to bring? Click here to read more.


Itinerary for WorldMUN 2012 | 2 March 2012
The daily itinerary for the 21st World Model United Nations Conference in Vancouver has been released. To view the full schedule, click here.


A Letter from United Nations Secretary-General BAN Ki-moon | 29 February 2012
"I am counting on your continued leadership and engagement. By participating in this Model United Nations, you will hone your negotiating skills and gain insights into what it takes to achieve consensus and progress...you can make your voices heard and drive political and social change...". Read the full letter here.