WorldMUN in the news


Vancouver 2012:



Our Campus: Kenneth Chan and MUN to bring the world to Vancouver


From: The Ubyssey - November 7, 2011
Kenneth Chan was the definition of the shy guy in high school. Now, he's the CEO heading the most diverse college-level conference in the world. Chan, a fourth year political science major, is the man behind the massive World Model United Nations (WorldMUN) 2012 conference hosted by UBC MUN and partnered with Harvard University, responsible for bringing 2200 delegates from 270 schools and 60 countries to Vancouver... Click here to read more





Previous conferences

(WorldMUN has made the headlines wherever it has been held. Here are just a selection of news articles that can still be found on the internet from Taipei 2010 and Singapore 2011):



Shaping future leaders: LAU participates in Harvard WorldMUN for 10th time


From: Lebanese American University News Release - April 4, 2011
Twenty students from the Beirut and Byblos campuses took part in the 20th annual Harvard World Model United Nations Conference, dubbed the "Olympics of Model UN," which was held in Singapore from March 14–18. The delegation, which was accompanied by Dr. Fuad Hashwa, dean of the School of Arts and Sciences at LAU Byblos, brought home one Diplomacy Award, making LAU the only university in the Middle East and North Africa region to win the much-coveted award. "I was really impressed by the excellent presentations of the students, their interest and dedication in presenting their cases," says Hashwa. "The School of Arts and Sciences and LAU are really proud of their well-deserved achievement."... Click here to read more



NUS and Harvard students co-organize first World Model United Nations conference in Southeast Asia


From: NUS News Release - March 16, 2011
Climate change, public health, world trade, international security and a nuclear-free Middle East are just some among many important global issues being discussed by student delegates at the World Model United Nations (WorldMUN) Singapore 2011 from 14 to 17 March. Held for the first time in Southeast Asia, the event is co-hosted by NUS and Harvard University. It is run by students from the two partnering universities and attracted more than 2,400 participants hailing from 60 countries. Delivering the welcome address, Singapore Minister for Foreign Affairs Mr George Yeo said: "I believe all of you participate in this conference do so because you believe in the UN, and are inspired by its lofty goals. Unless the nations of the world act in concert, how can we confront common challenges like climate change, nuclear proliferation and international terrorism?"... Click here to read more



WorldMUN 2011 opens in NUS


From: The Kent Ridge Herald - March 14, 2011
The 20th Harvard World United Nations conference opened in National University of Singapore with a speech by the Minister of Foreign Affairs, George Yeo, on March 14. "For your discussions to be productive, you have to tamper your idealism by a sense of reality. But you should not be so weighed down by reality, that you see little possibility of improvement," Yeo said to the delegates in his address. He called for the delegates to be inspired, and to inspire the professionals to do better. In his opening speech, Yeo also discussed about the need for a reform of the United Nations and praised the work of the G-20... Click here to read more



College students in Singapore for model UN conference


From: The Strait Times - March 14, 2011
FOREIGN Minister George Yeo recounted on Monday how inspired he was when he first visited the United Nations (UN) headquarters in New York as a fresh university graduate. He was speaking to over 2,000 students at the opening ceremony of the global annual event, World Model United Nations (WorldMUN), which was held at the National University of Singapore's University Cultural Centre. Mr Yeo said he hopes the students will also believe in the work that the UN does... Click here to read more



UBD students attend WorldMUN meeting


From: The Brunei Times - March 11, 2011
HARD work and determination paid off for the four Universiti Brunei Darussalam (UBD) students who were selected to attend the World Model for United Nations (WorldMUN) Conference in Singapore from March 14 to 18. Final year students from FBEPS, Mohd Anwar Hj Mohd, Dk Nurul Hafinah Pg Sazalee, Noor Amal Azirah Azlan and Khairunnisa Ash'ari will attend the five-day conference, which involves combining debates and discussion on international key issues, with exposition to new traditions and cultures, in a global setting... Click here to read more



The World Model United Nations - A good balance of IQ and EQ


From: JobsDB.com - February 21, 2011
The Model United Nations is a simulation of the actual United Nations, with various committees and passing of resolutions. IT has a fine balance of intellectually stimulation debates as well as opening delegates to a wealth of cultural exchange. Started in 1991, with Poland being the first host country, IT has grown in the applicants received each year. Every year, the World Model United Nations would be held in a different city. In 2011, the World MUN will be held right in our own shores as the National University of Singapore has won the bid to host it... Click here to read more



NUS and Singapore to play host to Harvard WorldMUN 2011 next March


From: The NUS Campus Observer - September 16, 2010
When National University of Singapore (NUS) undergraduates Sharmeen Alam and Ngiam Jing Zhi talked casually about Singapore hosting the Harvard World Model United Nations (WorldMUN) conference, little did they know that it would become reality. "We got really excited thinking...if Singapore were to host it, what would we have done and then suddenly the idea started materialising. It was quite accidental actually", said third-year Economics and Political Science major Alam, who also participated as a delegate in this year's WorldMUN Taipei... Click here to read more



WorldMUN completes successful run


From: The China Post - March 19, 2010
The 2010 World Model United Nations (WorldMUN), co-organized by Harvard University and National Taiwan University (NTU), was held from March 14 to 18 at the Taipei International Convention Center (TICC). Taipei won the bid thanks to the organizers' presentation, which included various forms and tables as well as pictures of Taiwan's convention centers, venues and accommodations that showcased the beauty of the island. According to organizers, Harvard University was especially impressed with the cultural activities held in conjunction with WorldMUN... Click here to read more



Taiwan's 'Super Card' wows model U.N. delegates


From: Focus Taiwan News Channel - March 16, 2010
Taiwanese students organizing an annual activity simulating United Nations meetings have capitalized on Taiwan's technological strength to introduce a multifunctional card to the event for the first time, impressing the 1,800 participating foreign students. "We were given many tickets when we attended the event in the past, which could be really confusing, " Jason Hou, a National Taiwan University (NTU) student in charge of the event, said Tuesday. "This year, we launched what we called the 'Super Card,' which helps reduce the use of paper," he noted... Click here to read more



Taiwan students show high enthusiasm despite U.N. exclusion


From: Focus Taiwan News Channel - March 15, 2010
The annual mock United Nations conference organized by university students in Taiwan and the United States opened Sunday in Taipei, with 1,800 participants from over 40 nations, excluding China. The Taiwan government granted visas to between 70 and 80 students of major universities in China, but they failed to obtain the permission of the Chinese government to attend the five-day event, according to event organizer... Click here to read more



NTU, Harvard host World Model UN conference in Taipei


From: Taipei Times - March 13, 2010
A World Model UN (WorldMUN) meeting co-hosted by National Taiwan University (NTU) and Harvard University will begin in Taipei tomorrow, marking the first time the meeting would be held in Taiwan. At a press conference in Taipei, Ami Nash, head of the Harvard host team of the event, said a total of 1,800 delegates from more than 200 universities and 50 countries were expected to participate in the simulated UN committee sessions and workshops through Thursday... Click here to read more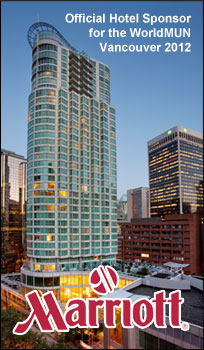 Important Reminders Before Departure to Vancouver | 6 March 2012
Wondering how to get around Vancouver? Wondering what identification and clothing you need to bring? Click here to read more.


Itinerary for WorldMUN 2012 | 2 March 2012
The daily itinerary for the 21st World Model United Nations Conference in Vancouver has been released. To view the full schedule, click here.


A Letter from United Nations Secretary-General BAN Ki-moon | 29 February 2012
"I am counting on your continued leadership and engagement. By participating in this Model United Nations, you will hone your negotiating skills and gain insights into what it takes to achieve consensus and progress...you can make your voices heard and drive political and social change...". Read the full letter here.