Current Sponsors
The Vancouver Host Committee for the 21st World Model United Nations Conference in 2012 appreciates the support of our sponsors and partners. Their belief in the leaders of tomorrow, as well as their financial commitment, allows the Host Committee to pursue the goal of continuing the annual WorldMUN tradition of hosting an outstanding conference for its global participants.
World Model United Nations 2012 Vancouver would not be possible without its sponsors and partners, the Vancouver Host Committee would like to extend its sincerest thanks and acknowledge the support of its contributors.
Host University



The University of British Columbia
WorldMUN 2012 Vancouver could not happen without the support of the University of British Columbia (UBC). The spirit behind WorldMUN closely aligns with the visions and values of UBC. The University considers this as an exceptional intercultural experience for all involved. As an institution of higher learning that thrives to foster global citizenship, UBC is proud to be associated with WorldMUN.
Sponsors
DIAMOND SPONSORS

Robert H. Lee Graduate School
GOLD SPONSORS

Marriott International
Partners


OFFICIAL CONFERENCE VENUE
Vancouver Convention Centre
OFFICIAL TOURISM SUPPORTER
Tourism Vancouver
On behalf of the UBC Host Committee, I'd like to express our sincerest appreciation to the generous organizations and institutions that are supporting WorldMUN 2012 Vancouver. Like many others before us, we hope to bring together a phenomenal event.
Jennefer Chen
Director of Corporate Relations
World Model United Nations 2012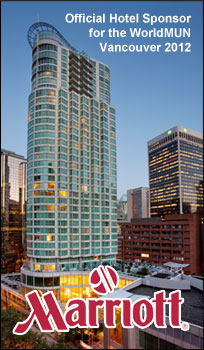 Important Reminders Before Departure to Vancouver | 6 March 2012
Wondering how to get around Vancouver? Wondering what identification and clothing you need to bring? Click here to read more.


Itinerary for WorldMUN 2012 | 2 March 2012
The daily itinerary for the 21st World Model United Nations Conference in Vancouver has been released. To view the full schedule, click here.


A Letter from United Nations Secretary-General BAN Ki-moon | 29 February 2012
"I am counting on your continued leadership and engagement. By participating in this Model United Nations, you will hone your negotiating skills and gain insights into what it takes to achieve consensus and progress...you can make your voices heard and drive political and social change...". Read the full letter here.