The V-Project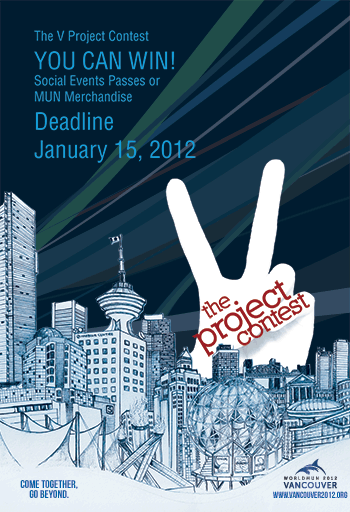 What is the V-Project?
You could

WIN

an

ALL-ACCESS PASS

(SOCIAL EVENTS PACKAGE) to our FIVE NIGHTLY SOCIAL EVENTS or WorldMUN 2012 Vancouver branded merchandise!
The WorldMUN 2012 Vancouver V-Project is a collaborative online portrait dedicated to promoting the 'WorldMUN Spirit" across the global student community. To illustrate our conference slogan "Come Together, Go Beyond," the Host Committee is looking for pictures of you making a "V" peace sign with your fingers, representing the "V" in "Vancouver," with a scenic and beautiful backdrop of your home city!
Whether you choose to take your picture in front of the Eiffel Tower or a local market or at your university, it's up to you! The final product will be a collage of the received photos – so don't miss the opportunity to showcase your country for preparation of WorldMUN 2012 Vancouver!
Upload your photo through our V-Project form, and watch for your picture on our WorldMUN 2012 Vancouver facebook album! Tell your friends to like your picture in our album, and the 4 pictures with the most "likes" will win. Photos will also be uploaded biweekly on the WorldMUN 2012 Vancouver splashpage at website, adding your photo to the mosaic of entries from around the world!
Click here to enter your V Project photo submission!
Some general tips for taking your 'V' sign photos:
Use the sample photos as an example! But at the same time, be as creative as you want!
The 'V' sign is also internationally known as the "peace sign," using your fingers to make a 'V.'
Make sure that there is sufficient daylight.

Sunset shots and night shots are not great for low quality handphone cams and digicams.
Avoid backlighting

Entries deemed inappropriate will not be posted and considered for the contest.
The contest is limited to one photo entry per contestant.
How do I enter the contest?
Upload the photos through our contest submission form, complete the short entry form, and then we will upload it onto an album on our Facebook page "WorldMUN 2012 Vancouver(facebook.com/worldmun2012)." Have your friends "like" your picture and the 4 photos that accumulate the most 'likes', 2 Delegate contestants and 2 Volunteer/public contestants, will win either a Social Event Pass or WorldMUN 2012 Vancouver Host Committee swag!
Click here to view and "Like" the photo submissions on our Facebook album. (all in green and bolded, entire sentence linking to here: https://www.facebook.com/media/set/?set=a.225610990836293.59351.159553044108755&type=3)
How are the winners selected?
All 'V' sign photos on Facebook will be uploaded to the album titled "The V-Project Contest." The deadline for submission is 11:59 pm PST on January 15, 2012. Four winners will be selected based on accumulating the most "likes" on their photo in the Facebook fan page album by 11:59 pm PST on January 15, 2012.
Come Together, Go Beyond.
We look forward to receiving your photos!
Deadline for submissions is 11:59 pm PST on January 15, 2012!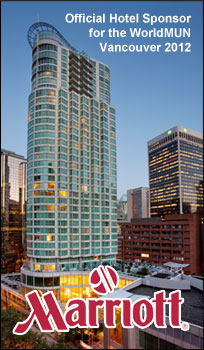 Important Reminders Before Departure to Vancouver | 6 March 2012
Wondering how to get around Vancouver? Wondering what identification and clothing you need to bring? Click here to read more.


Itinerary for WorldMUN 2012 | 2 March 2012
The daily itinerary for the 21st World Model United Nations Conference in Vancouver has been released. To view the full schedule, click here.


A Letter from United Nations Secretary-General BAN Ki-moon | 29 February 2012
"I am counting on your continued leadership and engagement. By participating in this Model United Nations, you will hone your negotiating skills and gain insights into what it takes to achieve consensus and progress...you can make your voices heard and drive political and social change...". Read the full letter here.