Robert H. Lee Graduate School
The Robert H. Lee Graduate School at UBC's Sauder School of Business is proud to support WorldMUN 2012 as Diamond Sponsors.
WorldMUN 2012 brings young leaders from around the world to Vancouver to engage in issues, share perspectives and spark connections. Guided by the challenges and possibilities of a shared global project and drawing on the diverse backgrounds and experiences of its delegates, WordMUN 2012 promises to be a truly powerful framework for conversation and creativity. A similar vision guides the Robert H.- Lee Graduate School of Business, as we engage the world from our home base in Vancouver. Through our graduate programs, young leaders from around the world come together to develop the essential knowledge, experiences and relationships they'll need to make a difference in the world and create careers that matter. This includes the Master of Management-Early Carreer Masters (MM-ECM) program designed to provide students with Bachelor's degrees in non-business disciplines an opportunity to learn the fundamental principles of sound business and management practice. We encourage WorldMUN 2012 delegates to connect with the Robert H. Lee Graduate Business School community at the following events:
Lunch and Info Session
12:00 pm, Sunday, March 11
Room 201, Vancouver Convention Centre
Space is limited,
please RSVP
by Friday, March 9th.
Networking Fair
12:00 to 2:30 pm, Wednesday, March 14
Room 201, Vancouver Convention Centre
Please RSVP
by March 12, 2012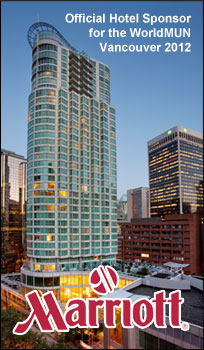 Important Reminders Before Departure to Vancouver | 6 March 2012
Wondering how to get around Vancouver? Wondering what identification and clothing you need to bring? Click here to read more.


Itinerary for WorldMUN 2012 | 2 March 2012
The daily itinerary for the 21st World Model United Nations Conference in Vancouver has been released. To view the full schedule, click here.


A Letter from United Nations Secretary-General BAN Ki-moon | 29 February 2012
"I am counting on your continued leadership and engagement. By participating in this Model United Nations, you will hone your negotiating skills and gain insights into what it takes to achieve consensus and progress...you can make your voices heard and drive political and social change...". Read the full letter here.