Useful Information
Vancouver
The City of Vancouver is located in the westernmost Canadian province of British Columbia (BC). The Metropolitan Vancouver area lies closely to sea level, and is bordered by mountains to the north and east, and water to the south and west.
Time Zone/Daylight Saving Time
BC is located in the Pacific Time zone, eight hours behind Greenwich Mean Time. Daylight saving time in 2012 is observed on March 11.
Weather/Climate
Winters on the BC coast are temperate; if snow falls it doesn't settle for long. Vancouver has a uniquely mild (warm) Canadian climate, snow is not expected for the WorldMUN week. For current climate and weather conditions by province and territory, visit the
Environment Canada
website.
Currency
The currency used in Canada is the Canadian dollar.
Canadian bank notes are:
Canadian coins are:
One cent (penny)
Five cents (nickel)
Ten cents (dime)
25 cents (quarter)
One dollar (loonie)
Two dollar (toonie)
Main currency exchanges are located in Vancouver International Airport, banks and hotels. Retail currency exchanges are also located throughout the city centre.
Sales Tax
All goods and services in BC are subject to a 12% Harmonized Sales Tax (HST).
Electricity
Outlets and voltage (110 volts) are the same as in the United States. Small appliances — such as hair dryers, irons and shavers — can be used in Canada. Adaptors are required for electrical appliances for delegates from other countries. The frequency of the electrical current in Canada is 60 Hz.
CDMA/GSM (Mobile Phone) Coverage
CDMA phones are currently the most common cellular technology in Canada. CDMA providers include:
Bell Mobility
Solo Mobile (a subsidiary of Bell)
Telus Mobility
Koodo Mobile (a subsidiary of Telus)
Virgin Mobile Canada
A CDMA phone will have excellent coverage throughout Vancouver. GSM/GPRS is another mobile phone technology used worldwide; Canada's service providers have roaming agreements with GSM/GPRS companies all over the world. Although it will cost more to use a GSM/GPRS phone, it will work almost anywhere around the globe. The main physical difference between CDMA and GSM/GPRS is the use of a SIM card for GSM devices. If your phone is on a GSM network, check with your service provider to make sure there is a roaming agreement with a Canadian provider.
10-Digit Dialing
There are three telephone area codes for the province of British Columbia: 250, 604 and 778. Dialing in BC requires 10-digit phone numbers, so ensure you include the correct area code in front of the local number you are dialing.
Measurement
Canada uses the metric system. Here are some examples of useful conversions:
1 Canadian gallon = 4.5 litres
1 American gallon = 3.8 litres
1 mile = 1.6 kilometres
1 kilometre = 0.6 miles
30°C = 86°F
20°C = 68°F
0°C = 32°F
Language
While Canada has two official languages – French and English – English is the predominant language in BC.
Shopping (hours and days of operation)
Hours and days of operation are determined by each municipality, although most establishments in Metro Vancouver are open seven days a week.
Credit Cards and Travellers Cheques
Most major credit cards are accepted, but delegates are advised to check with the vendor before making a purchase. Cash machines are available in convenient locations throughout Metro Vancouver.
Banking
Banking hours in Canada are 9:30 am to 4:30 pm, Monday to Friday. Some locations and branches have extended hours and operate on weekends. To cash cheques or for other banking services, delegates are advised to confirm operating hours with the various institutions. In major centres, main branches of Canadian banks are also equipped to exchange foreign currency. Additionally, several major European and foreign banks have offices in Vancouver. Most banks have automatic teller machines, which can be accessed 24 hours a day using bank or credit cards from major international banking networks.
Smoke-Free Conference
In addition to WorldMUN's smoking restrictions at all venues, smoking is also prohibited by law in indoor and some outdoor environments in Vancouver. These include all indoor public places (restaurants, bars, the convention centre, all social event venues) as well as within 6-metres of air vents, restaurant/bar patios, and door entrances to buildings Smoking is also prohibited in Vancouver's public parks, which includes its beaches, golf courses, trails and seawall promenades. Violators are subject to a fine of up to CAD$2,000.00 by City of Vancouver Bylaw. Smoking at train stations or in a train, public transit shelters or in a bus, taxi or limousine is also prohibited.
Personal Safety
Canada is a very safe place to visit, but as with any country, being alert is key to ensuring your safety.
Potable Water
Vancouver water is considered very safe to drink straight from the tap so be sure to fill up your re-usable water bottle and stay hydrated throughout the day. The city's water arrives from the mountain snow-melt water reservoirs, located just north of Vancouver.
Alcohol
The legal drinking age in British Columbia is 19. Most Canadian provinces have a legal drinking age of 19, with the exceptions being Alberta, Manitoba and Quebec, where it is 18. Photo ID is required to purchase alcoholic beverages or enter bars, restaurants or nightclubs where alcohol is served. WorldMUN's social events are open to all ages. However, photo ID is required to purchase any alcoholic beverage. Underage drinking is not permitted at WorldMUN's social events, all violators will be evicted from the venue.
Driving
A US driver's licence is valid in Canada. However, if you are visiting from any other country, you must apply for an International Driving Permit from an automobile association in your country of residence before you leave, to allow you to drive and rent a car in Canada.
Embassies and Consulates
Canada hosts numerous embassies, consulates and high commissions that can provide assistance if you need help with documentation (for example, replacing a lost passport or extending a visa) or dealing with legal, medical or emergency matters. To search a directory of consular offices across Canada by country of origin, visit the
Foreign Affairs
Canada website.
Emergencies
For emergencies in Vancouver, dial 9-1-1 on the telephone. 9-1-1 connects you to ambulance/paramedics, police and/or fire in an emergency situation and their services are provided in all languages.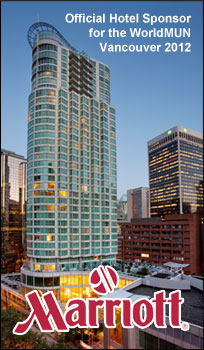 Important Reminders Before Departure to Vancouver | 6 March 2012
Wondering how to get around Vancouver? Wondering what identification and clothing you need to bring? Click here to read more.


Itinerary for WorldMUN 2012 | 2 March 2012
The daily itinerary for the 21st World Model United Nations Conference in Vancouver has been released. To view the full schedule, click here.


A Letter from United Nations Secretary-General BAN Ki-moon | 29 February 2012
"I am counting on your continued leadership and engagement. By participating in this Model United Nations, you will hone your negotiating skills and gain insights into what it takes to achieve consensus and progress...you can make your voices heard and drive political and social change...". Read the full letter here.