Conference
WorldMUN is the most diverse college-level Model United Nations conference in the world, attracting more than 2,000 college students from around the globe for a youth summit. The conference is managed by Harvard College and moves to a new international city every year, having been hosted in previous years at The Hague, Geneva, Beijing, London, Athens, Taipei, and many more. The five-day conference combines committee sessions during the day with nightly social events, which provide delegates with a great way to experience the host country's culture and to learn from students from more than 270 schools in 65+ countries.
The 21st World Model United Nations Conference will be held in Vancouver, Canada from the 11th to 15th of March 2012. 22 committee sessions will be held over the span of five days at the West Building of the Vancouver Convention Centre.
Come Together, Go Beyond
The name "Canada" is derived from the word "Kanata," a First Nations word for "Meeting Place" or "Coming Together." The meaning behind the word is not only apt for Canada and Vancouver, but also for WorldMUN as well. Canada is a nation built on immigration, leading to what is known today as a cultural mosaic of people that stretches from sea to sea to sea. Vancouver epitomizes the Canadian mindset to diversity, with one of the most international and diverse populations in the country. As internationalism and diversity are some of the ideals that WorldMUN has as well, Vancouver and Canada are one of the best settings to welcome and host WorldMUN and its international delegates.
The theme of the Vancouver 2012 WorldMUN Conference will reflect a coming together of cultures and viewpoints to temporarily create a cultural mosaic where all the delegates can not only be able to express their viewpoints, but also learn from others around them. After the conclusion of the conference, delegates will go beyond back to their home countries and bring with them the spirit of WorldMUN 2012 - collaboration, intercultural understanding, inclusiveness, and fun.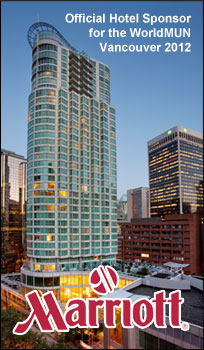 Important Reminders Before Departure to Vancouver | 6 March 2012
Wondering how to get around Vancouver? Wondering what identification and clothing you need to bring? Click here to read more.


Itinerary for WorldMUN 2012 | 2 March 2012
The daily itinerary for the 21st World Model United Nations Conference in Vancouver has been released. To view the full schedule, click here.


A Letter from United Nations Secretary-General BAN Ki-moon | 29 February 2012
"I am counting on your continued leadership and engagement. By participating in this Model United Nations, you will hone your negotiating skills and gain insights into what it takes to achieve consensus and progress...you can make your voices heard and drive political and social change...". Read the full letter here.