Travel Documents
Countries and territories whose citizens require a Temporary Resident Visa (TRV) in order to enter Canada as visitors
Summary
The Canadian Border Services Agency has officially recognized WorldMUN 2012 Vancouver as a conference held in Canada.
American Visitors to Canada: The Western Hemisphere Travel Initiative (WHTI) requires everyone entering or re-entering the US by air, land, and sea to show a passport, passport card, or a NEXUS card at a NEXUS kiosk at designated airports. A TRV is not required for American Visitors.
International Visitors to Canada (not US citizens or US permanent residents): Must carry a valid passport and, if required, a TRV (see country lists below). Citizens from some countries do not require a visa to enter Canada -- please visit the Citizenship and Immigration Canada website for a complete list of countries whose citizens require visas to enter Canada.
Visitors are advised that if they are traveling through a third country, they may also need visas or other documents for that country. We ask that visitors apply for their TRV's early, click here to view the processing times.
Application Process for Visitor Temporary Resident Visa (TRV)
If you and your delegation are required to apply for a TRV to enter into Canada, please visit the Citizenship and Immigration Canada website for application procedures and forms.
If you require an INVITATION LETTER from the Vancouver Host Committee for the application process, please email visa@vancouver2012.org to obtain one.
If you need a Temporary Resident Visa (TRV) to enter Canada, please finish your hotel reservations by

December 1st, 2011

. Otherwise, your TRV application might not be processed and/or approved in time for your departure to Canada. (NOTE: TRV is the name of Canada's Travel Visa for visitors). If you have any question concerning hotel accommodations, or encounter any difficulty while booking, please do not hesitate to email Isabel Gonzalo at isabelc.gonzalo@vancouver2012.org.
Visitors can also contact their Canadian embassy or consulate to learn what documents are required. Contact information for Canadian embassies around the world can be found at the Foreign Affairs Canada website.
Useful websites:
Citizenship and Immigration Canada web site:
http://www.cic.gc.ca/english/index.asp
Information on visiting Canada:
http://www.cic.gc.ca/english/visit/index.asp
Do you need a Temporary Resident Visa (TRV) to visit Canada (see for list of countries):
http://www.cic.gc.ca/english/visit/visas.asp
Visiting Canada - Important information for visa exempt travellers (including US Citizens):
http://www.cic.gc.ca/english/visit/visa-exempt.asp
Where to send your application for a (TRV):
http://www.cic.gc.ca/english/information/offices/apply-where.asp
Visa Offices outside of Canada:
http://www.cic.gc.ca/english/information/offices/missions.asp
Visitor Temporary Resident Visa (TRV) Exemptions
The following people DO NOT REQUIRE A TRV to visit Canada:
citizens of Andorra, Antigua and Barbuda, Australia, Austria, Bahamas, Barbados, Belgium, Botswana, Brunei, Croatia, Cyprus, Denmark, Estonia, Finland, France, Germany, Greece, Hungary, Iceland, Ireland, Israel (National Passport holders only), Italy, Japan, Korea (Republic of), Latvia (Republic of), Lithuania, Liechtenstein, Luxembourg, Malta, Monaco, Namibia, Netherlands, New Zealand, Norway, Papua New Guinea, Poland, Portugal, St. Kitts and Nevis, St. Lucia, St. Vincent, San Marino, Singapore, Slovakia, Solomon Islands, Spain, Swaziland, Sweden, Slovenia, Switzerland, United States, and Western Samoa;
persons lawfully admitted to the United States for permanent residence who are in possession of their alien registration card (Green card) or can provide other evidence of permanent residence;
British citizens and British Overseas Citizens who are re-admissible to the United Kingdom;
citizens of British dependent territories who derive their citizenship through birth, descent, registration or naturalization in one of the British dependent territories of Anguilla, Bermuda, British Virgin Islands, Cayman Islands, Falkland Islands, Gibraltar, Montserrat, Pitcairn, St. Helena or the Turks and Caicos Islands;
persons holding a British National (Overseas) Passport issued by the Government of the United Kingdom to persons born, naturalized or registered in Hong Kong;
British subjects who hold a passport issued by the United Kingdom and who have the "right of abode" there
persons holding a valid and subsisting Special Administrative Region passport issued by the Government of the Hong Kong Special Administrative Region of the People's Republic of China;
persons holding passports or travel documents issued by the Holy See;
persons holding an ordinary passport issued by the Ministry of Foreign Affairs in Taiwan that includes their personal identification number.
Citizens of the following countries and territories require a TRV to VISIT or TRANSIT Canada:
Afghanistan
Albania
Algeria
Angola
Argentina
Armenia
Azerbaijan
Bahrain
Bangladesh
Belarus
Belize
Benin
Bhutan
Bolivia
Bosnia-Herzegovina
Brazil
Bulgaria
Burkina Faso
Burundi

Cambodia
Republic of Cameroon
Cape Verde
Central African Republic
Chad
Chile
China, People's Republic of
Colombia
Comoros
Congo, Democratic
Republic of the
Congo, Republic of the
Costa Rica
Cuba
Czech Republic

Djibouti
Dominica
Dominican Republic

East Timor
Ecuador
Egypt
El Salvador
Equatorial Guinea
Eritrea
Ethiopia

Fiji

Gabon
Gambia
Georgia
Ghana
Grenada
Guatemala
Guinea
Guinea-Bissau
Guyana

Haiti
Honduras

India
Indonesia
Iran
Iraq
Israel (only Israeli citizens holding valid Israeli "Travel Document in lieu of National Passport")
Ivory Coast

Jamaica
Jordan

Kazakhstan
Kenya
Kiribati
Korea, North
Kosovo
Kuwait
Kyrgyzstan

Laos
Lebanon
Lesotho
Liberia
Libya
Lithuania (holders of non-biometric passports only)

Macao S.A.R.
Macedonia
Madagascar
Malawi
Malaysia
Maldives Islands
Mali
Marshall Islands
Mauritania
Mauritius
Mexico
Micronesia, Fed. States
Moldova
Mongolia
Montenegro
Morocco
Mozambique
Myanmar (Burma)

Nauru
Nepal
Nicaragua
Niger
Nigeria

Oman

Pakistan
Palau
Palestinian Authority
Panama
Paraguay
Peru
Philippines
Poland (holders of non-biometric passports only)

Qatar

Romania
Russia
Rwanda

Sao Tomé e Principe
Saudi Arabia, Kingdom of
Senegal
Serbia
Seychelles
Sierra Leone
Somalia
South Africa
South Sudan
Sri Lanka
Sudan
Surinam
Syria

Taiwan (except holders of the ordinary passport issued by the Ministry of Foreign Affairs in Taiwan that includes their personal identification number)
Tajikistan
Tanzania
Thailand
Togo
Tonga
Trinidad and Tobago
Tunisia
Turkey
Turkmenistan
Tuvalu

Uganda
Ukraine
United Arab Emirates
Uruguay
Uzbekistan

Vanuatu
Venezuela
Vietnam

Yemen

Zambia


Source: Citizenship and Immigration Canada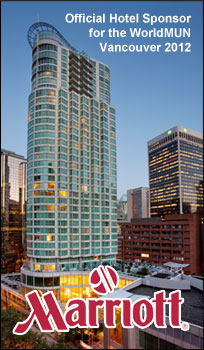 Important Reminders Before Departure to Vancouver | 6 March 2012
Wondering how to get around Vancouver? Wondering what identification and clothing you need to bring? Click here to read more.


Itinerary for WorldMUN 2012 | 2 March 2012
The daily itinerary for the 21st World Model United Nations Conference in Vancouver has been released. To view the full schedule, click here.


A Letter from United Nations Secretary-General BAN Ki-moon | 29 February 2012
"I am counting on your continued leadership and engagement. By participating in this Model United Nations, you will hone your negotiating skills and gain insights into what it takes to achieve consensus and progress...you can make your voices heard and drive political and social change...". Read the full letter here.