Sponsorship package
The spirit of WorldMUN is best summed up by this year's motto and theme of "Come Together, Go Beyond." While a typical Model United Nations conference revolves around simulations and academic debates on global issues, World Model United Nations "goes beyond" to incorporate a cultural and networking aspect to the conference. The "WorldMUN Spirit" has been living on for 21 years as an unparalleled intercultural experience and global multi-industry networking opportunity for college and university students.
We are looking to collaborate with organizations to provide the foundation for the staging of WorldMUN 2012 Vancouver. No matter the cause, industry of your organization, or the breadth or depth of your involvement, we are always keen on additional support to enhance the conference experience for our global visitors. If you are interested in collaborating with us in our endeavour, please review our sponsorship package below for information on how your organization can be involved with the staging of the 21st World Model United Nations Conference at Vancouver, Canada in 2012.
For all inquiries, please contact Jennefer Chen at jennefer.chen@vancouver2012.org.
We look forward to hearing from you!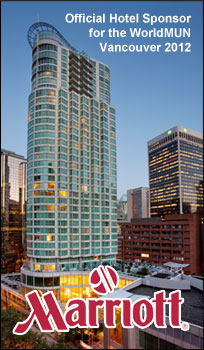 Important Reminders Before Departure to Vancouver | 6 March 2012
Wondering how to get around Vancouver? Wondering what identification and clothing you need to bring? Click here to read more.


Itinerary for WorldMUN 2012 | 2 March 2012
The daily itinerary for the 21st World Model United Nations Conference in Vancouver has been released. To view the full schedule, click here.


A Letter from United Nations Secretary-General BAN Ki-moon | 29 February 2012
"I am counting on your continued leadership and engagement. By participating in this Model United Nations, you will hone your negotiating skills and gain insights into what it takes to achieve consensus and progress...you can make your voices heard and drive political and social change...". Read the full letter here.