FAQ
Generally
Q: Do I need to have previous Model UN experience to apply?
A:
Generally, no.
This is the case for most if not all of the logistics volunteer positions; any experience you do have, however, will be a 'selection factor' and will be used in your favour when our team is selecting volunteers.
For pages, a first-hand knowledge of how MUN committees work is important, however first-time MUNers will not be barred strictly based on this lack of experience; experience with conferences of a similar nature (think Model NATO, Model EU, Model Legislatures, etc.) will certainly be considered during the selection process.
Lastly, for Assistant Chairs, MUN experience is mandatory; although there are exceptions to this rule, only the top MUN-experience-deficient candidates will be selected for AC positions (and these candidates will have to show a vast experience in other ROP-based conferences, such as those mentioned above).
Q: When will I be notified if I've been selected for my position?
A:
You'll hear back from us either way likely by the end of October, or early November, at the latest. Check our important dates [link to important dates page] page for updated information.
Q: Will you be tracking my hours? And can I have a reference letter?
A:
Yes and yes. Please notify us after being selected if you'd like a reference letter at the end of March.
Q: What if I can't make all of the training sessions associated with my position?
A:
It depends.
Missing mandatory training sessions is a big concern, as absenteeism will affect volunteer training and, consequently, affect the overall quality of our conference. Attendance will be taken at mandatory training sessions, and a certain attendance threshold will have to met for you to remain in your position.
Missing suggested or recommended training sessions is less of a concern, although we will still be tracking attendance and will speak with you should your absenteeism from these training sessions imperil your ability to volunteer with us.
Please notify your assigned coordinator or liaison of any issues related to your attendance or your commitment to WorldMUN. We will strive to reach a balance between achieving quality training for our volunteers and respecting their various other life commitments (classes, jobs, extracurriculars).
Q: What goodies does WorldMUN provide to its volunteers?
A:
More than likely a lanyard with customized badge, as well as a t-shirt. Lots more details to come -- stay tuned.
Q: What's this 24-Perks club I read something about?
A:
To reward the most hard-working and dedicated among our volunteers, those who log 24 hours or more will be entitled to exclusive discounts and access to WorldMUN 2012 events. Keep tuned; more details to come.
Logistics Volunteers
Q: Do I need to have any specific experience in any of the volunteer areas listed?
A:
No, although the more experience you have in a certain field, the better. What is crucial is that you have the motivation, initiative, and capacity to learn what you need to learn by conference time.
Q: What is the time commitment associated with a Logistics Volunteer position?
A:
There are two aspects to the answer to this.
First, training: if your position requires a lot of pre-conference training, you'll likely have to commit to 1-2 hours/week in the weeks leading up to March 11. For many of the positions, however, you'll only have a couple-hours-long training session in the week or two before the Conference begins; so, in essence, pre-Conference there is hardly much of a time commitment required.
Second, your shifts: if you've requested many more shifts than the minimum we ask you to sign up for, you'll have a busy Conference-week. See the question below (on what your Conference-week will look like).
Q: Can I volunteer in more than one volunteer area (e.g., airport greeter and registration volunteer), or can I only volunteer in the area I've been selected for?
A:
Likely yes, but it'll depend on our final numbers for volunteers and the volunteer areas. Our staff, and specifically the Director and your assigned liaison, will be responsible for figuring out our volunteer needs and our resources. Let us know on your application and, if applicable, during your interview, that you have multiple preferences and we'll try our best to accommodate your request.
Q: Do I need to know first aid?
A:
No, unless you are a first aid volunteer.
Q: How far in advance will I know my shift schedule for the Conference?
A:
Likely in January. Don't worry, as soon as we know we'll let you know.
Q: What will my week of March 11 to 15 look like? Can I miss any part of the Conference?
A:
Your schedule for that week will largely depend on the shifts you've elected to take and the time commitment you've signed up for. You can't miss any part of the Conference for which you are scheduled to volunteer. What you do in your free time is up to you, although we'd suggest sticking around for our awesome social events!
Pages
Q: What is the time commitment associated with a Page position?
A:
The time commitment for this position prior to the conference is limited; a couple-hours-long training event will likely be scheduled for sometime right before the conference begins. During the Conference, you're likely going to be given shifts lasting from 3 to 3.5 hours long (matching roughly with the length of committees sessions). By conference-end you'll likely have served as a Page for 15 to 20 hours; this number will change depending on the number of shifts you've requested.
Q: Will I be the only page volunteering within a committee?
A:
No. Although the committee sizes do vary, all of our committees requires multiple pages to ensure that delegate-to-delegate and delegate-to-dais communications roll along smoothly. Also, while you're likely to remain associated with one committee, the staff may need you to serve in more than one committee. We'll let you know closer to the time.
Q: What will my week of March 11 to 15 look like? Can I miss any part of the Conference?
A:
If you're a Page, you're likely going to be busy most of the time committees are in session. Expect a busy week. You can't miss any part of the Conference -- i.e., any committee session forwhich you're a Page -- that you're signed up for. Enjoy your free time, and we'd suggest you come to the awesome social events we have planned.
Assistant Chairs
Q: What is the time commitment associated with an Assistant Chair position?
A:
In January and February, you'll likely be saddled with training sessions consisting of about 2-4 hours a week. (We'll confirm this over the next few months). Your time commitment will increase in early March as the conference nears, and by conference-time you will be eating, breathing, and sleeping WorldMUN (and we think that this is a good thing!)
Q: Will I be in contact with the Chair and the rest of the Dais before our committee sessions begin?
A:
Yes. Although it's too early for specifics, we'll make sure that there is contact between committee Chairs and the rest of the Dais prior to March 11. In fact, you'll be put in contact with the Chair for your committee soon after being selected for the position, and will be expected to work with this individual in the months leading up to the Conference.
Q: How much say will I, as AC, have in shaping my committee's general runnings, debate, etc.?
A:
It will vary. For WorldMUN 2012, ACs will be allowed a relatively large amount of discretion in terms of making decisions and leading the committee. This is not, however, to forget that you'll be working alongside the Chair, and these decisions often must be made not unilaterally but, instead, by the consent of both of you. Different Chairs will run committees slightly differently, and thus your responsibilities and duties will also shift correspondingly. It is also important to note that the Chair does have absolute discretion over some matters. For more information, please contact the Director or your assigned Coordinator.
Q: What will training involve?
A:
The training program that all ACs will undergo, regardless of experience and background, will include:
Introduction to WorldMUN
Role of ACs in WorldMUN
Communications Procedures
ROP (Rules of Procedure) Training
MUN Document Familiarization (e.g., background guides, position papers, working papers)
Committee Simulations
GA/ECOSOC-specific or Specialized Agencies/Crises-specific training, whichever applies
Q: What will my week of March 11 to 15 look like? Can I miss any part of the Conference?
A:
You'll be busy. As an AC you will be committed to any time your committee is in-session. Further, you will be meeting with your Dais, delegates, and WorldMUN staff outside of committee, so get ready for a jam-packed week! You certainly won't be able to miss any committee sessions, mandatory meetings, or other commitments associated with your position, and you'll likely find yourself pulled into other WorldMUN happenings and events.
Q: How many other ACs will my committee's Dais consist of?
A:
If you take a look at our committee listing, you'll see listed the committees and the Chairs and Assistant Chairs assigned to each.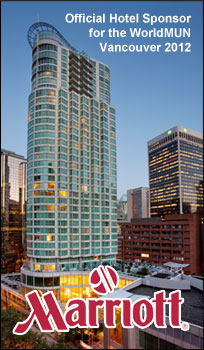 Important Reminders Before Departure to Vancouver | 6 March 2012
Wondering how to get around Vancouver? Wondering what identification and clothing you need to bring? Click here to read more.


Itinerary for WorldMUN 2012 | 2 March 2012
The daily itinerary for the 21st World Model United Nations Conference in Vancouver has been released. To view the full schedule, click here.


A Letter from United Nations Secretary-General BAN Ki-moon | 29 February 2012
"I am counting on your continued leadership and engagement. By participating in this Model United Nations, you will hone your negotiating skills and gain insights into what it takes to achieve consensus and progress...you can make your voices heard and drive political and social change...". Read the full letter here.