Conference Venue
The West Building of the Vancouver Convention Centre is the Official Conference Venue for the 21st World Model United Nations Conference. The spectacular Vancouver Convention Centre is an award-winning facility with LEED (Leadership in Energy and Environmental Design) platinum certification. Built with the latest sustainability practices in mind, it incorporates an on-site water treatment plant, a large "living" natural indigenous grass roof, its own colony of bees, and even an aquatic reef. With floor-to-ceiling windows throughout the building, guests will enjoy phenomenal harbour and mountain views.
The Vancouver Convention Centre is located on the Coal Harbour waterfront in the Central Business District and is within close walking proximity to numerous restaurants, shops, attractions, hotels, and SkyTrain rail rapid transit.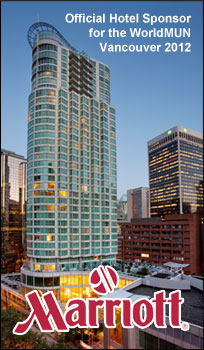 Important Reminders Before Departure to Vancouver | 6 March 2012
Wondering how to get around Vancouver? Wondering what identification and clothing you need to bring? Click here to read more.


Itinerary for WorldMUN 2012 | 2 March 2012
The daily itinerary for the 21st World Model United Nations Conference in Vancouver has been released. To view the full schedule, click here.


A Letter from United Nations Secretary-General BAN Ki-moon | 29 February 2012
"I am counting on your continued leadership and engagement. By participating in this Model United Nations, you will hone your negotiating skills and gain insights into what it takes to achieve consensus and progress...you can make your voices heard and drive political and social change...". Read the full letter here.